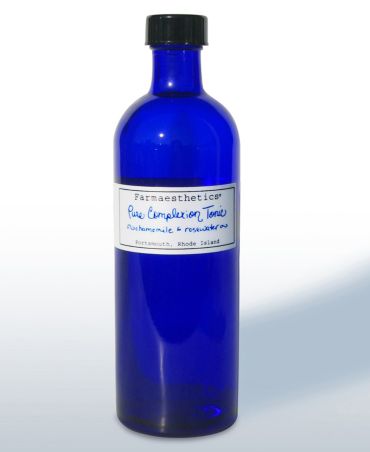 Image courtesy of Macy's
Price: US$28
Size: 4oz/118mL
Packaging: Approx. 6 in/16cm tall, cobalt blue glass bottle with a screw top lid and about a 1/2 inch opening. I love glass packaging!
Ingredients:
Witch Hazel, Rose Otto, Chamomile and Lavender Essential Oils, Glycerin (Yes, that's it!)
Product: This toner is a clear liquid (looks like water) and smells like roses- just lovely! I use a cotton pad to cover the opening and tip the bottle upside down quickly. I usually do this twice and it is enough product to cover my whole face. I anticipate the bottle to last me about 3 months.
Pros: This beautiful, simple toner is perfect for my sensitive skin. Toners are something I have really struggled to find over the years as they are usually waaay too harsh. Upon application my skin feels and looks smoothed and hydrated. After 3 weeks my skin tone is more even and my skin is softer and smoother. It has not aggravated my eczema on my forehead.
Cons: I can only order it online, but as I order so many products online, I have gotten used to anticipating when I'm going to run out of a product! Also, I was using this twice a day, which I think caused slight irritation. I would stick to once in the evening to remove any grime from the daily grind in the city!
Verdict: This is a great toner for those with sensitive skin, especially those prone to congestion! It uses natural, proven ingredients to GENTLY tone and soften (Read: no alcohol, no salicylic acid, no AHA, no BHA!) The Witch Hazel is FULL of antioxidants and together with the Lavender works to purify the skin, while the Rose Otto softens and calms and the glycerin holds it all together! I also love this company's concept of only using a few ingredients- I will be trying their cleanser next and will definitely review it also!
Wake up and smell the roses everyone!
M. :)